GIFT IT FORWARD / ÇOCUKTAN ÇOCUĞA ARMAĞAN
---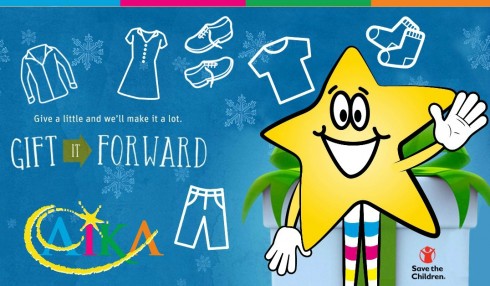 AIKA's campaign of gifting forward has begun. Let us all come together and teach children the act of kindness, that sharing is caring and that the only way to make the world a better place is by putting more into it, than what we take out.
"FROM CHILDREN TO CHILDREN - GIFT IT FORWARD" SOCIAL RESPONSIBILITY PROJECT
Dear Parents,
AIKA has launched a social responsibility project in our school in order to raise awareness, improve, help and share the care. To support this project, we kindly ask of you the donation of new or second hand toys, books, clothes and stationery materials to the school authorities between the dates mentioned below.
Thank you in advance for your support of the social responsibility project "Gift It Forward".
PROJECT HISTORY: Start Date: 06.03.2017 End Date: 07.04.2017
HELP SCHOOLS TO BE SENT: The schools in Karakoç, Çalapverdi and Özler villages of Boğazlıyan District of Yozgat are included.
"ÇOCUKTAN ÇOCUĞA ARMAĞAN – GIFT IT FORWARD"
SOSYAL SORUMLULUK PROJESİ
Sevgili Velilerimiz,
Öğrencilerimizin farkındalıklarını yükseltmek, geliştirmek, yardımlaşmak ve paylaşmak adına okulumuzda sosyal sorumluluk projesi başlatmış bulunmaktayız. Projemize destek vermek için paylaşacağınız yeni veya ikinci el oyuncak, kitap, giysi ve kırtasiye malzemelerini aşağıda belirtilen tarihler arasında okul yetkililerine teslim etmenizi rica ederiz.
"Gift It Forward / Çocuktan Çocuğa Armağan" adlı sosyal sorumluluk projemize desteğiniz için şimdiden teşekkür ederiz.
PROJENİN TARİHİ: Başlangıç: 06.03.2017 Bitiş: 07.04.2017
YARDIM GÖNDERİLECEK OKULLAR: Yozgat'ın Boğazlıyan İlçesi'ne bağlı Karakoç, Çalapverdi ve Özler köylerindeki okulları kapsamaktadır.
---
Diğer Haberler