The AIKA Family
---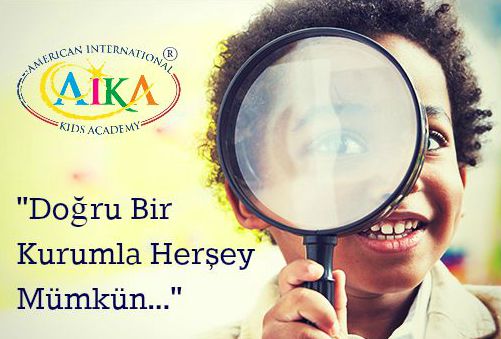 (Quote on the photo… "With the right establishment everything is possible…"
Our values:
Confidence, Compassion, Creativity, Curiosity
AIKA Preschools with their early childhood "Mommy & Me" Program welcome our children with compassion and nurture the development of their self-confidence. In our schools our children feel safe in an environment with materials designed to stimulate their natural curiosity. An inquisitive child acquires knowledge through "experience" and builds on this knowledge with the creation of its own imaginary world.
Based on this perception, our schools ensure that our children feel safe and happy and are free to explore and acquire new knowledge in our classrooms equipped with age appropriate materials and through the application of our "bilingual" teaching programs.
We work with expert teachers, who are university graduates in the field of "Preschool Teaching". Our toys and educational materials are selected by our expert team to support all areas of our children's development. Our school premises have been certified and comply with building inspection regulations, providing a safe and untainted environment for our children. We pay particular attention to nutrition, cleanliness and safety.
We are aware that as an educational institution one of our most important roles is to follow the latest scientific developments and continue to learn from this new knowledge. That is why we understand the importance of our identity as not only a teaching school, but also a learning school.
AIKA Students are;
Positive in their outlook on life and happy.
Raised in an international environment to be global citizens.
Social and confident.
Excited to learn.
Creative and productive.
Unique and free.
Analytical thinkers, and have developed problem-solving skills.
Inquisitive, questioning, examining and have a greater sense of awareness.
Sharing, respectful and willing to help.
Live in and value nature.
AIKA Teachers are Perfect! Because they;
Understand how precious our children are to their families.
Respect, value and love children.
Understand that each child is unique.
Anticipate a potential problem and find a solution.
Build empathy, and have effective communication skills.
Are equipped, follow the agenda and translate this to the classroom.
Are accommodating, and work efficiently as part of a team.
Believe that learning is a lifelong process.
Are enthusiastic about their work.
Are curious, creative, disciplined and productive.
Our Partners are AIKA Parents;
The connection we establish with our parents is very important to us in being able to follow and support our children's development. With this invaluable support, you our valued parents, ensure we are able to provide the maximum benefit to our children from our educational environment.